Invasion of the Dutch East Indies
Dutch East Indies Invasion.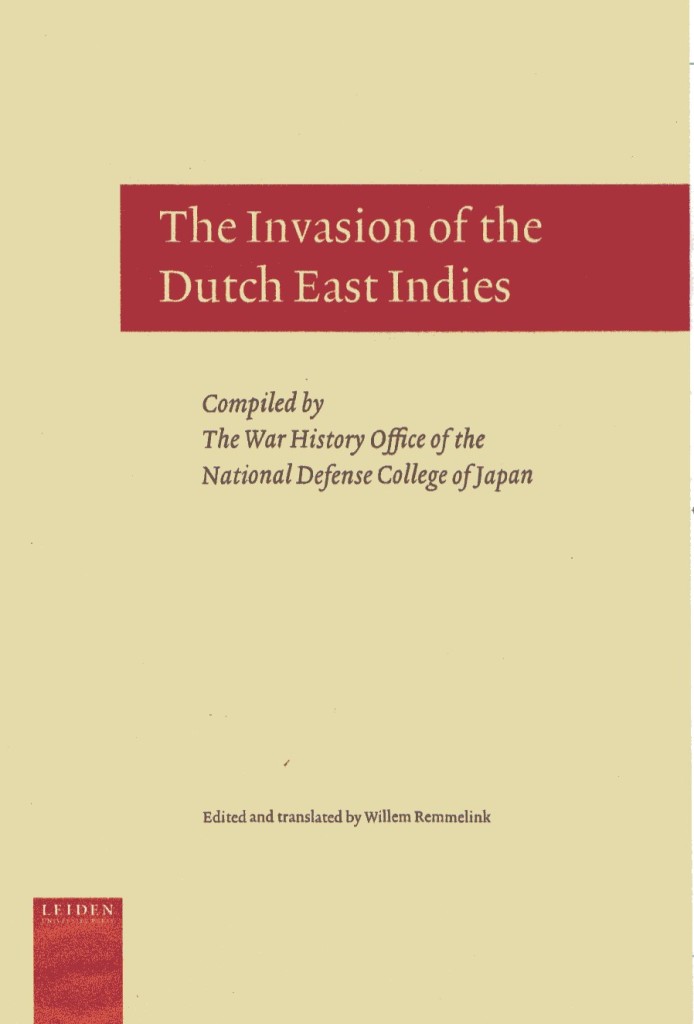 This important book (The Invasion of the Dutch East Indies 627 pages)   was compiled by the War history office of the National Defense College of Japan.  A translation was made in 2015 by Willem Remmelink and published by the University of Leiden Press. It constitutes volume 3 of the War History Series (Senshi Sosho).
This book was originally published  by Asagumo Shimbunsha in 1967 titled Ran-in Koryaku Sakusen., 
The book's opening lines reads as follows: The history of Japan's involvement in the Second World War  is still a matter of great controversy, not least in Japan itself.  At the time of publication many of the army personnel who had taken part in this campaign were still alive. Major Okamura, a former staff officer of the Imperial General Headquarters sent to Singapore to join the invasion of the Netherlands East Indies, explicitly denies the claim made in the present book, that the war was all about oil (Editors note).
Contents
CHAPTER I Outline of the Operation  (9 pages)
CHAPTER II Situation of the Dutch East Indies (5 pages)
CHAPTER III Operational Preparations Prior to War (90 pages)
CHAPTER IV Opening of Hostilities (12 pages)
CHAPTER V Decision to advance [the Schedule of ] the Java operation and the Sixteenth army (53 Pages)
CHAPTER VI The Launch of the Dutch East Indies Operation (17 pages)
CHAPTER VII The capture of Java's dehors (402 pages)
Summary
A large portion of the book is devoted to the dilemma facing the Imperial Japanese army : to gain control over the oil fields of Java and Sumatra , an immense distance from Japan, without provoking a Russian or American involvement and with a hopelessly under resourced logistics support.